Welcome to the website of the Cotton Stakes!
ACCEPTING CREDIT CARD PAYMENTS FOR FEES!




Payment Instructions:
~~ Complete and Sign the Entry Form.
~~ Total up the Fees for All Your Entries.
~~ Click Here to Pay Securely Online!
Thank you to all that attended the 2014 Cotton Stakes
We couldn't do it without you!
Look forward to seeing you again in 2015!
Click here to view results.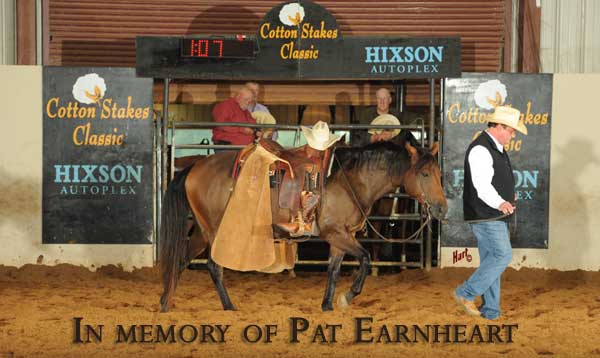 ---
AWARDS:
Klapper Spurs
to Champions
3, 4 & 5/6 Yr Old Open & Non Pro
4 & 5/6 Yr Old Unlimited Amateur

BRONC HALTERS
to Reserve Champions
3, 4, 5/6 Yr Old Open & Non Pro
4 & 5/6 Yr Old Unlimited Amateur

Don Orrell Stirrups
to Champions
4 & 5/6 Yr Old $50,000 Amateur

to Reserve Champions
3, 4, & 5/6 Yr Old Open & Non Pro
4 & 5/6 Yr Old Unlimited Amateur
4 & 5/6 Year Old $50,000 Amateur

SKYLINE SILVERSMITH KNIVES
to Champions & Reserve Champions
3, 4 & 5/6 Yr Old Open & Non Pro $200,000 Ltd
4 & 5/6 Yr Old $50,000 Amateur

to Reserve Champions
4 & 5/6 Yr Old Unlimited Amateur

All $50,000 Amateur Finalists


---
OFFICIAL VIDEOGRAPHER:
OFFICIAL PHOTOGRAPHER: